Beginnings
Our company, Artefunto, was officially established in 2003. We have been involved in the production of thousands of art pieces and have managed four different art galleries across South Africa for the last 10 years. We have exhibited in Namibia, the United Kingdom and Eastern and Western Europe.
Through our history of owning art galleries and producing art, we have gained expert insight and extensive knowledge about the industry. It is our passion to make a positive and long-lasting contribution to the world of art.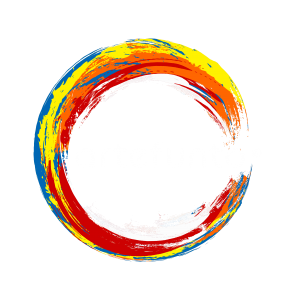 Today
Our current focus involves producing beautiful bespoke and handmade contemporary round plates. These plates, inspired by traditional hardwood African curios, are made from alternative materials. In the promotion of the values of ethical production and ecological consciousness, we have perfected our sustainable process.
Our round plates are 1.50m (59") in size and the canvas of each plate is lined with silver leaf, resulting in powerful, vibrant colours. Each piece takes roughly 3-4 months to complete. Exhibited in various galleries and displayed in private homes, our art plates are aesthetically exhilarating, sophisticated, sustainable and entirely unique.
Process and Production


Supply

As a result of the complex nature of our manufacturing process, our production is limited, and we supply plates to only a select few art galleries.
We also supply to private clients directly via our onilne catelogue.

Approach

The art plates are one of a kind. Plates are never duplicated or copied so as to produce innovative pieces that hold or increase in value. We also present clients with the option of providing designs. A client's specific requirements regarding size and design are therefore taken into account. This results in the development of a wholly unique and bespoke piece of personal art.

Sustainability and Preservation

Sustainability, ecological consciousness and preservation are at the core of our ethos. We use alternative materials such as engineered particle board to create our unique plates. Pieces of engineered particle board are carefully glued together and steamed in order to create a bowl-like shape. The piece is then lacquered with multiple layers to create the perfect canvas. The next step involves oil painting and polishing the canvas to create a shiny and glossy effect. Ostrich eggshell and mother of pearl are often used to accentuate specific areas of the design.

Authenticity

In order to ensure that our plates remain individual in nature and to solidify the quality of our work, we provide an authenticity certificate that offers a lifetime guarantee for every plate manufactured and sold. Our plates represent the creative pinnacle of our joint efforts, skills and passion. We are incredibly proud of the extraordinary impact they have had and continue to have in homes, hotels, resorts and offices around the world.
Our Clients

Below are some of our past and present corporate clients